CASE STUDIES
Social Impact
Non-Profit
The Challenge
In April 2020 when the pandemic was strong, we were approached by an ambitious organization Juntos Costa Rica who were on a mission to help families across the country who have been heavily affected by COVID-19. They created a very COOL way to get people to donate & our challenge was helping the organization create an impactful website that would build trust in others to donate & also that looked professional as many famous people had their brand associated with it.
The Solution
During the pandemic, artists & celebrities were also locked inside without much to do, so the team put the need for donation together with these influential people. Using their connections they had many celebrities sign up to donate their time for a raffle for those who donated to the cause.
Celebrity Virtual Meeting Raffle
A person could buy raffle tickets for a celebrity of their choosing, to enter the chance to win a virtual meeting with them. The concept caused a lot of buzz & resulted in a snowball effect where more celebrities participated after seeing their peers involved.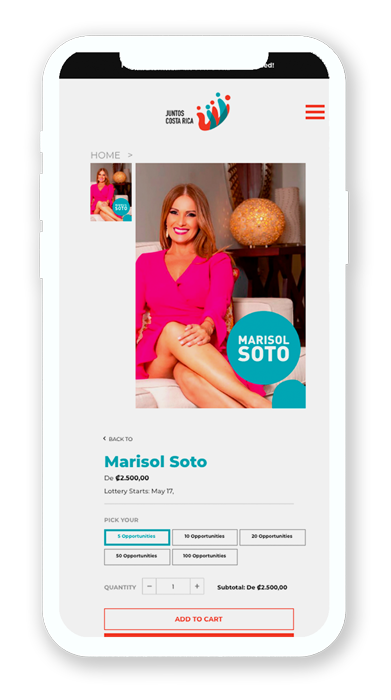 BRANDING
Initiative
With any kind of donations it's important to be a reliable source. This brand was new under this name so it was important to look credible to people so they would be willing to donate. Likewise it had many celebrity faces so it was important for visitors to have the trust that this was a legitimate raffle. By creating a professional looking page this went a long way. We also worked with them to consult them on how to tell the story of the initiative & how to lay out the partnering organizations.
POSITIVE
Outcome
In the entire campaign an estimated 452 000 impressions on social media were made & 65 000 people actively helped in the cause. The project helped over 3 000 families in need with food & basic supplies all across Costa Rica.
Our Happy Clients
Thanks again for the help from you and the team.
Thank you to Jessica [PM] I don't know what I would do without her!
OTHER WEBSITES
Social Impact Brands