Shopify Redesign
Coffee Gear for Coffee Lovers
Ampato Coffee is an online store that provides high-quality coffee to adventurous coffee enthusiasts. Their coffee beans are carefully selected from the world's finest coffee farms, roasted to perfection, and delivered to your doorstep. The store has a sleek and modern UI/UX design that caters to coffee lovers who appreciate a good cup of coffee and value an immersive shopping experience.
The Project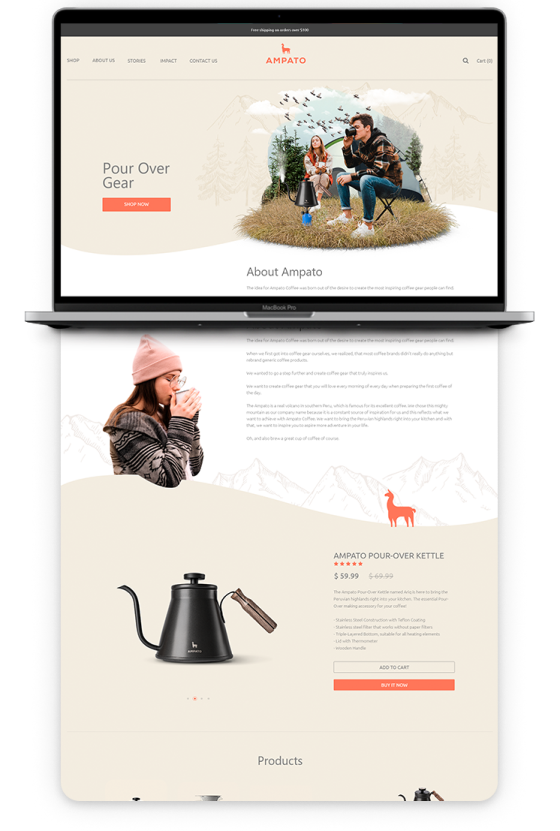 The challenge
The challenge of redesigning the Ampato Coffee Shopify store was to communicate the unique benefits of the product and showcase why customers should be willing to pay a premium price for it. The goal was to create a design that would appeal to adventurous coffee lovers and provide a seamless user experience that made it easy for customers to explore and purchase the various products offered. The challenge was to effectively communicate the value of the product and its superior quality, while also creating a visually stunning online store that would attract and engage customers.
The solution
Our solution focused on implementing e-commerce best practices and weaving the brand's story throughout the website. We created a visually engaging and informative experience for visitors, highlighting the coffee's origins in Peru and appealing to the adventurous spirit of coffee lovers. We also implemented clear calls-to-action and streamlined the purchasing process to make it easy for customers to buy and enjoy this premium coffee.
Ampato Coffee's online store has a sleek and modern UI/UX design that caters to coffee lovers who live for adventure and appreciate a good cup of coffee. The homepage features striking visuals of coffee gear in action, with a focus on outdoor adventure and travel. The user interface is intuitive and easy to navigate, with clear categories for different types of coffee gear, including grinders, brewers, and accessories. The user experience is optimized for both desktop and mobile devices, providing a seamless shopping experience for customers on the go. Additionally, the site features educational content on different brewing methods, recipes, and coffee origins, allowing customers to expand their knowledge of the coffee world. With a focus on quality and adventure, Ampato Coffee is the perfect destination for anyone looking to elevate their coffee game and enjoy the perfect cup no matter where they are.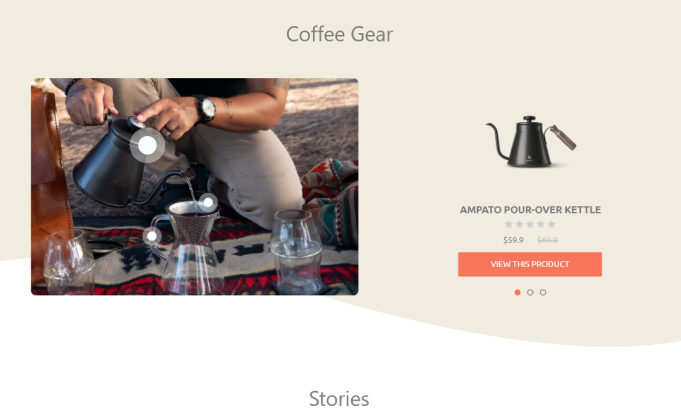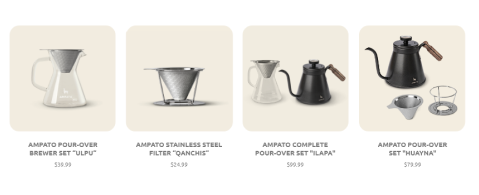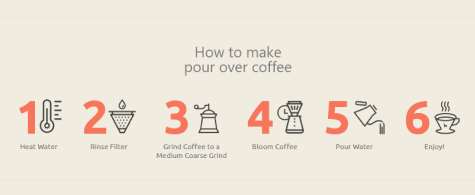 Origins
Storytelling
Storytelling is a powerful tool for brands to connect with their audience and build trust. By sharing the story of the origin of the product, the brand's values, and their mission, Ampato Coffee is able to create an emotional connection with their customers. This connection leads to a higher level of trust, as customers feel more invested in the brand and its values. In addition, storytelling allows the brand to differentiate itself from competitors and stand out in a crowded market. By using storytelling on their e-commerce store, Ampato Coffee can effectively communicate their brand message and create a unique shopping experience that resonates with customers and drives conversions.
Book a Consultation for your Project